The NHL Quarter-Season Awards
We're about a quarter of the way through the NHL regular season, so I think it's time to review how the season's going. Instead of analyzing the statistics and standings at the quarter-pole, I will instead hand out some awards for team and individual performance through the first 20 some games. We'll do this again at mid-season and see how things have changed. So, without further ado, the quarter-season awards for the National Hockey League.
The "New NHL" Award for Most Overused Phrase
This, appropriately, goes to anyone who uses the phrase
"New NHL".
They call obstruction penalties, there's more scoring, we get it already. This phrase is about 2 weeks away from becoming as clichéd as "giving 110%" or "working hard in the corners".
The "Defense Wins Championships," even in the "new NHL" Award
To the Pittsburgh Penguins, who did a great job assembling a strong offense in the off-season, but can't keep the puck out of their own net. Come to think of it, this team reminds me a lot of the Lemieux-Kovalev-Straka-Jagr teams of the late '90s-early '00s; lots of O, no D.
The Bill Simmons Ewing Theory Award
At the quarter-point of the season, we have winners in both the individual and group categories.
Individual
Jacques Martin
The long-time Sens coach could never get his team over the hump; replacement Bryan Murray has them on pace for over 130 points in the regular season. Adding to Martin's credentials is the fact that his new team, the Florida Panthers – a popular sleeper pick in the East- have already endured a 12 game losing streak. How long before Iron Mike wises up and starts coaching the team himself?
Group
New York Rangers
They had begun the process of dismantling their perennially underachieving, ridiculously overpaid lineup towards the end of the 2003-04 season, and with the salary cap coming into effect, went all out during the latest off-season. Aside from Jaromir Jagr, and the summer of 2004 signing of Michael Nylander, they ditched all their high-paying, high profile players, focusing on bringing in character players like Marek Malik and Ville Niemenin. They also brought some Czechs like Martin Straka on board to keep countrymen Jaromir Jagr happy, and decided to give a number of their young players a chance to stick in the big league. And its worked wonders. Tom Renney has the club playing well together, and playing hard every night. Rookie goaltender Henrik Lundqvist has been a revelation, and Jaromir Jagr looks reenergized and happy for the first time in a long time.
The Rob Brown Award for Riding a Linemate's Coattails to SuccessSimon Gagne
of Philadelphia takes this one. Gagne's a talented player, and will thrive with the right linemates (as the 2002 Olympics showed, when he was paired with Sakic and Iginla), but he's taken his game to another level playing with Peter Forsberg. As of this writing (Saturday afternoon), he's tied with Jaromir Jagr for the lead in goals with 21. Does he approach these numbers without Big Foppa feeding him the puck? I doubt it.
The Gordie Howe Award for Fountain of Youth (Skater)
This one is a tie between
Teemu Selanne
and
Pierre Turgeon
, written off as washed up, but now averaging a point a game respectively in Anaheim and Colorado
The Jacques Plante Award for Fountain of Youth (Goalie)Dominik Hasek
deserves his own award, putting up gaudy numbers (.930 save percentage!) after a one year retirement, one year battle with a groin injury, and one year off due to the lockout.
The Bryan Berard Award for the Next Bobby Orr
This goes to Maple Leaf Defenseman
Bryan McCabe
, who's recorded 31 points through 23 games, putting him on pace for close to 120 for the season. He's 6 ahead of Lubomir Visnovksy for the lead amongst defenseman. I never thought I'd write that sentence. This seems like something that could only happen in a video game, not in the real NHL – like, to use an example from another sport, when Trot Nixon nearly won the Triple Crown in my MVP Baseball 2005 league. This didn't even seem possible in the 'New NHL.' That's right, I've decided mid-column to do my best to beat this phrase into the ground, so you're as sick of it as I am.
The LeBron James-Dwyane Wade Award for Overhyped Bird-Magic Comparisons
Who else but
Sidney Crosby and Alexander Ovechkin
could this one go to? Sure they're talented kids, but just because they enter the league in the same year does not mean that they're going to be the Larry Bird and Magic Johnson of the league. For one, the teams they play for don't mean nearly as much, historically, or politically, as Boston and Los Angeles. Secondly, let's see them make the leap to become elite players and then lead their teams to some success before we go anointing them as the saviors of the New NHL.
And they could make Americans care about hockey. That would be a bonus.
The Timbuk3 Award for "the Future's So Bright, I have to Wear Shades"
To young Canadian forwards
Jason Spezza, Dany Heatley, and Eric Staal
, amongst others, who have joined stalwarts Jaromir Jagr, Peter Forsberg, and Daniel Alfredsson atop the Art Ross race. It's good to know that the New NHL has a future beyond Crosby and Ovechkin.
The 1983-84 Edmonton Oilers Award for Really Dominant Young Team on the Brink of Success
This one goes to the
Ottawa Senators
, who have been absolutely dominant through the first quarter of the season, and look like they could roll over the Eastern Conference, unless Philly pulls it all together. At the very least, they should coast to the President's Cup, and put up a strong playoff showing.
The Washington Capitals Award for Being Just as Bad as Advertised
Tough not to award it to the Caps, but since they've shown some glimpses of improving, we'll go with the
St. Louis Blues.
Everyone predicted that this would be the year the longest running playoff streak in professional sports ended, and sure enough, the Blues haven't disappointed. From Keith Tkachuk's weight problems, to the struggles of acquisitions like Eric Brewer, the Blues are looking every bit like the last place team many, including myself, thought they'd be in the New NHL.
The Boston Bruins Award for Chronic Underachieving
This goes to the sub .500
Bruins
, who normally wait until the playoff round to go into the tank, but started from Day 1 of the regular season this year. They've been hurt by the holdouts of Andrew Raycroft and Nick Boynton, and injuries to Raycroft and Alexei Zhamnov among others, but that's no excuse for their poor performance, even in the tough Northeast Division. They better get their act together in a hurry, or Coach Mike Sullivan, GM Mike O'Connell, or some key players may quickly find themselves unemployed or in different uniforms.
The Alex Abboud "Wow, Sidney Crosby is Really Short" Award
This one goes to the
NHL Official Guide and Record Book
. Sure, Mario's 6 foot 4, but Crosby still looks like a midget next to him.
I named this award after myself since my first reaction to seeing Sid the Kid in downtown Halifax this summer was "wow, he's really short". I've since repeated that comment to whoever is around whenever Crosby's name has come up. For the record, I'm 5 foot 11, and he was a good couple of inches shorter than me.
The Isaiah Thomas Squared Award for the Trade That's Been Bad For Both Teams
To
Kevin Lowe and Mike Milbury
. The Mike Peca-Mike York swap hasn't worked out for either team, as Peca's already been demoted to the 4th line in Edmonton, and York's a –11 for the Isles, despite racking up 12 points. Not what either GM had in mind back in August.
The Kids in the Hall Sometimes Canadian Content Can Be a Good Thing Award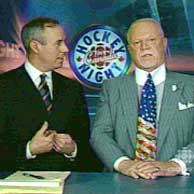 This goes to the on-air personalities at CBC not named Don Cherry, Bob Cole, or Harry Neale. Memo to the higher-ups: get rid of those three personalities and we'll be all good.
The Young Team Who Surprised Everyone by Being a Dud Award
To
Columbus
, currently last in the NHL in points. Sure they've been missing star forward Rick Nash for most of the season, but that's not an excuse for having 10 points at the 20 game mark. Hopefully the acquisition of Sergei Fedorov will help turn this team around.
The Young Team Who Surprised Everyone by Being Really Good Award
Who predicted that
Carolina
would be leading the Southeast Division? Do they look good or what? Eric Staal has made the leap a season or two earlier than anyone thought he would, and the duo of Martin Gerber and Cam Ward has been solid in net. Just wait until Staal hits his peak and Andrew Ladd and Jack Johnson join the club. They're going to be good for a long time.
The "No Really, I Won an Art Ross Trophy. Do You Want to See It?" Award
To 2003-04 Art Ross winner
Martin St. Louis
, averaging less than a point per game and ranking 78th in the league in points. If he keeps this pace up, my dubious award will be named after him in future years.
Frankly, looking at the list of
past Art Ross winners
, I can't think of a less talented winner from the post-World War II era. Ditto for the
Hart Trophy.
He has to be the least valuable MVP in any sport since Terry Pendleton won the National League MVP in 1991.
The State Whose Teams Are Making Me Look Really Bad Award
This goes to
the State of California
, due to the Kings success, and the duds of a season from both the Ducks and the Sharks. The three of them, especially the latter two, are making
my pre-season predictions
look foolish.
One final note. In an
earlier post
, I said that the Ducks had until Christmas to do something before I renounce my pick of them as Western Conference Champions. On the heels of the Todd Marchant pickup, I don't see a reason to wait. So, I'm renouncing my pre-season prediction. I will wait until Christmas, at least, to make a new prediction, mostly because I have no idea what to think at this point. I just hope that it's not Calgary again.