Party In The City Where The Heat Is On...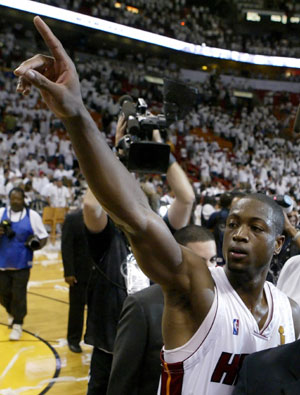 Congratulations to the Miami Heat, the 2006 NBA Champions.
Some thoughts on Game 7:
• I nailed this one,
predicting the winner
and the correct number of games. That brings my record up to 11 for 15 for the spring, for a respectable 73% clip. For the gamblers amongst our readership, my 2006-07 NBA preview will be the maiden article of our subscriber section that's scheduled to launch this fall. Okay, this won't actually happen, but hopefully I'll start taking less flack for my poor performance predicting the Stanley Cup playoffs.
• In terms of less successful predictions, none of my
keys to the game
really happened, but I will note that James Posey (who is rapidly becoming one of my favorite players) hit two key shots in the fourth after doing nothing for the first three quarters. The prediction of Miami not getting the same calls as on Sunday was common sense, so I won't take any credit for it.
• What separates championship teams from very good teams? In Game 3, Dallas had Miami by the jugular, but let them back in the game late, and let them steal it in the end. After falling behind, Dallas made their runs, but Miami made all the necessary stops and key shots to stay ahead all through the second half. Dallas had a chance to effectively knock Miami out, but they couldn't do it. With their chance to win the championship, Miami closed it out.
• With that being said, Dallas will be back. They have a great team, and will be battling with Phoenix and San Antonio for Western supremacy over the next few years. Even if they lose a Jason Terry or Josh Howard (which I don't think they will), Avery Johnson will find a way to bring his team back. He's the best young coach in the league. Great post-game interview tonight, too. Very candid, respectful, and honest.
• As for the Heat, they may have another year or two of Shaq (at an above average to all-star level), though I can't see them ever not being a contender with Dwyane Wade and a decent supporting cast. Now, with that being said, LeBron and the Cavs, as well as the Baby Bulls (who, for my money, gave the Heat a tougher run than either the Nets or the Pistons) are gaining on them. In fact, I'd say that the Bulls are a low-post scoring threat away from being able to challenge and take anyone in the East. Suffice to say, it was nice to see the Heat take advantage of the opportunity they had.
• How good is Dwyane Wade? Is it too late to get
him
to narrate one of those
Superman Returns
promos? Regardless of his greatness, though, he must know that he got lucky after shanking those two free throws in the dying seconds.
• Neither team was feeling it from the three-point line; what made the difference in the game was that Miami was successful in attacking the basket (at least Wade was) while Dallas couldn't get enough jumpers to fall. I thought they should have tried to post up Nowitzki more often, especially once Miami went to its smallball lineup.
• Speaking of, how awesome was that extended stretch of small-ball in the 4th? There was a good 3-4 minutes where both teams sat their centers, and it was a ton of fun to watch. For all the talk about Miami's slow, deliberate style, the game really opened up with Shaq, 'Zo, Dampier, and Diop all on the bench. Let's hope that it's a sign of things to come in the NBA.
• You never know which roster moves will turn out to be the key ones. When the Heat reupped Udonis Haslem last summer (it wasn't seen as a given that he'd stay), I don't think they counted on him playing 40 minutes, and putting up 17-10 in the deciding game. Nonetheless, after a poor performance in Game 5, Haslem stepped up and was the second option Miami needed (especially with Shaq in foul trouble).
• Guest analysis from my dad, watching the game in New Orleans: "I hope Shaq wins, cause I don't like Kobe Bryant". Yep, that summed up the feelings of pretty much everyone.
• Kudos to Mark Cuban, who was out on the court applauding the teams just seconds after the end of the game. A classy move by a guy, who for all of his antics, is a class act.
• Impressive work by the ABC crew to bleep the word "asses" out of owner Mickey Arison's victory speech. And while we're on the topic of ABC's coverage, can they just stick to the traditional overhead camera view. The lower angle they were going with for stretches makes it harder to follow the play, and ends up cutting off part of the action at times.
• It's nice to see Gary Payton and Alonzo Mourning finally win a championship after their respective long, and distinguished careers (even though 'Zo basically made the Raptors release him while still paying his salary so that he could go elsewhere and do it). It took them each over a decade, and a willingness to accept supporting roles, but they finally did it. Each of them also stepped up at times in the finals - Payton with big shots at the end of Games 3 and 5, and Mourning with 5 key blocks in Game 6. This might be the end of the line for both of them, too. Both of them are free agents, and I can't see any reason for them to come back now.
It was a good game tonight, and a very entertaining final. As disappointed as I am to have the season end, I look forward to the draft next week, then an exciting off-season before we tip off again next fall.